One Blu Eye is the brainchild of Australian Artist, Tina Dinte (aka. me!).
I am lucky to live in the beautiful bayside suburbs of Brisbane and spend my days 'drawing with paint' creating bespoke artworks for my Australian and International collectors (read all about my arts practice below).
Traditionally trained as a graphic designer and with a true love of drawing that emerged as a child, I had a real desire to combine my two passions – painting and drawing. I also wanted to create a unique range of surface designs that can be turned into usable products. Whether that is fabric for apparel and homewares or packaging for a beautiful candle.


But, I always came up against 'how do I turn my extremely intricate artworks into a repeatable pattern?'. Seriously, it was impossible! However, after over a year of experimentation (and lots of failed designs),
it came to me in a dream that I needed to create a 'vessel' for my paintings.
I set about developing a series of digital illustrations (aka. the vessels) and overlaid my artworks inside them. And, viola, I can create a unique repeatable pattern that is a combination of hand-drawn digital artwork and bespoke painting.
------------------------------------
Why the name 'One Blu Eye'?
This is an easy one to answer… my rescue dog Tully has one brown eye and one blue eye... every time we go for a walk I always hear from passerby's - 'Oh look, he has 'one blue eye''. And because I love my boy to bits, I decided to call my illustration practice after his quirky feature. Just like my quirky illustrations!
------------------------------------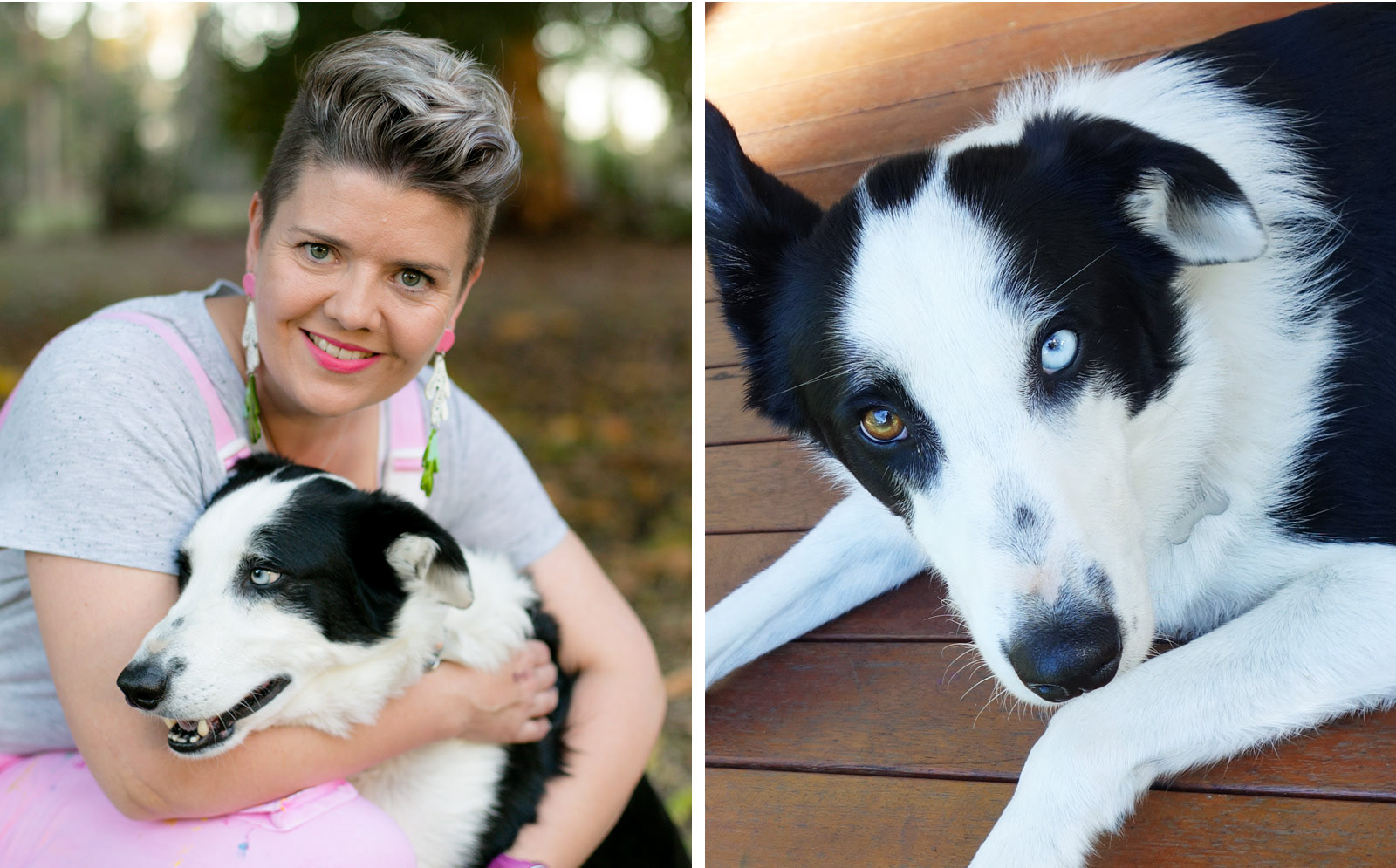 ------------------------------------
MORE ABOUT
Tina Dinte, the Artist
From careers in IT, to graphic design, colour consulting, interior stylist and renovator, I have spent my entire working life using colour – whether it is creating a steel grey corporate logo that whispers 'high-class brand' to suggesting a bright pink colour scheme to portray the 'loud and quirky' nature of a jewellery designer, I have always used colour to invoke a particular emotion in the target audience.
Now a full-time artist, I have taken these skills into creating bespoke artworks for Australian and International collectors. From my 'tiny home' shipping container studio, I approach an artwork firstly by how I want the viewer to feel, independent of what the subject matter is. I believe vibrant colour palettes can portray happiness and uplift those with energetic souls. Or for serene individuals, creating an artwork with subtle hues is something they will be drawn too. Once the 'feeling' decision has been made, I consider the composition of the artwork.
The subject in my paintings are inspired by our bushland property, daily adventures, conversations with strangers and her large collection of books. The intricate details in my work come from studying everything around me – patterns and textures in nature, the linework of a building, the squiggly lines of coral, the typography of landscapes, the flow of moving water and even the movement of animals running. These subjects are portrayed in my unique 'drawing' style of painting.
My 'non-assembly line' approach to art means each piece takes several weeks but as my ever-growing list of commissions indicate, collectors are loving my unique style of artwork and as long as the paintings make people 'feel', I will keep on creating.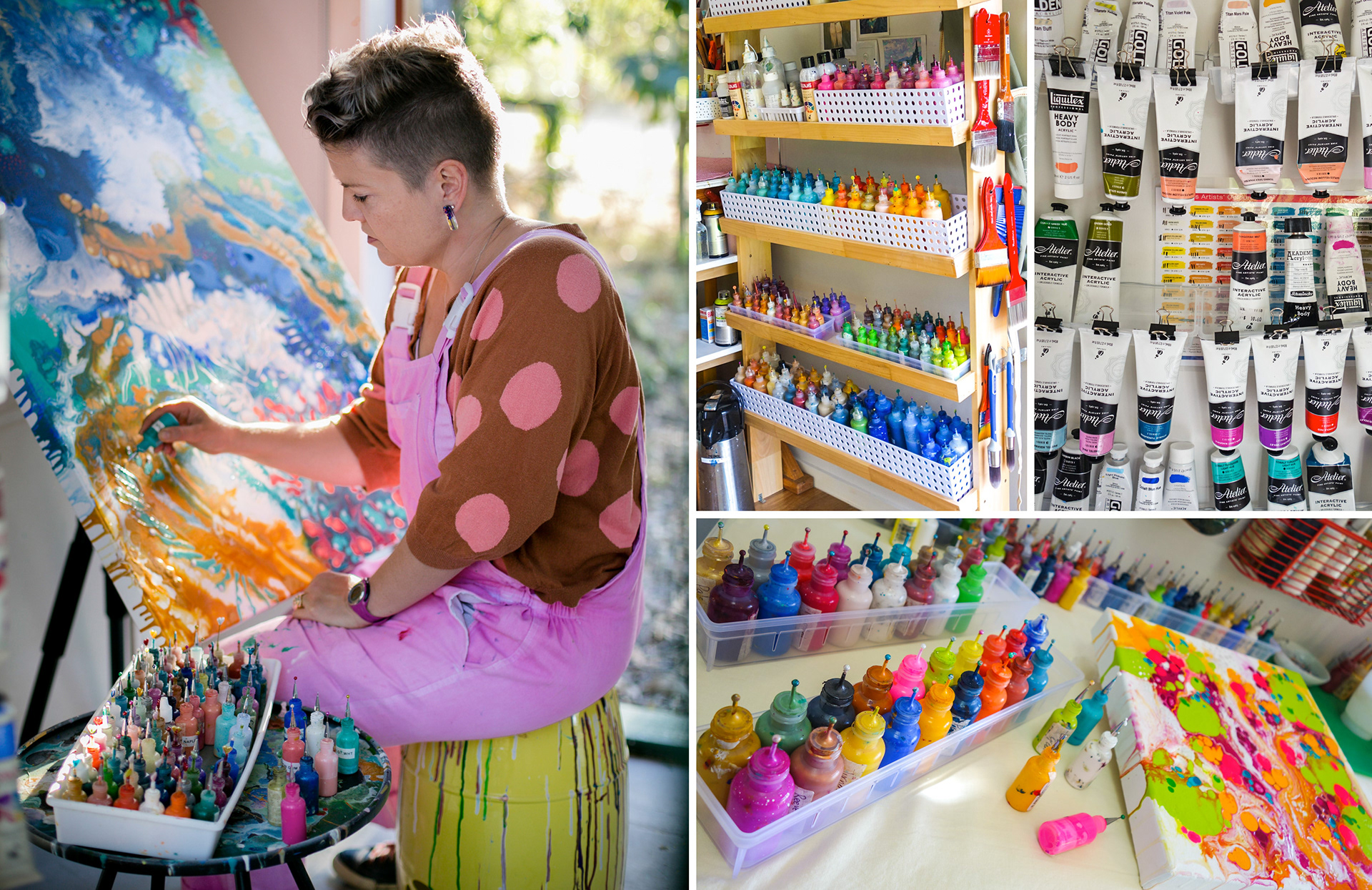 'DRAWING WITH PAINT' TECHNIQUE
Heavily influenced from her graphic design background, Tina developed a style of painting that throws out the brushes, instead she 'draws' with paint onto the canvas with squeeze bottles. Each set of bottles has different paint consistencies — thick / normal / thin. The metal nibs enable Tina to do all the fine detail, just like she would do with a sharpened pencil when finessing drawing. Tina can produce paintings with wonderful textures and depth using areas of solid colour, different line thicknesses, stippling and blending of paint.
------------------------------------